Some questions ? Welcome to our F.A.Q. !

Is BicyLift compatible with my bike?
We design specific attachments according to the bicycles (subject to changes on models mentioned):
Omnium

Kargon

Trek Supercommuter
Our trailers can also be mounted on more classic bicycles with a hitch to be mounted on the base and the left seat stay. Thus our universal hitch is compatible with :
However, compatibility is not 100% guaranteed due to the diversity of bicycle frames (geometry, position of the brake caliper or stand attachment,...).
In order to limit the stresses in the stationary hitch, it is necessary to be able to hold the bike on a stand: for this purpose we have integrated a stand attachment directly on our "universal" attachment.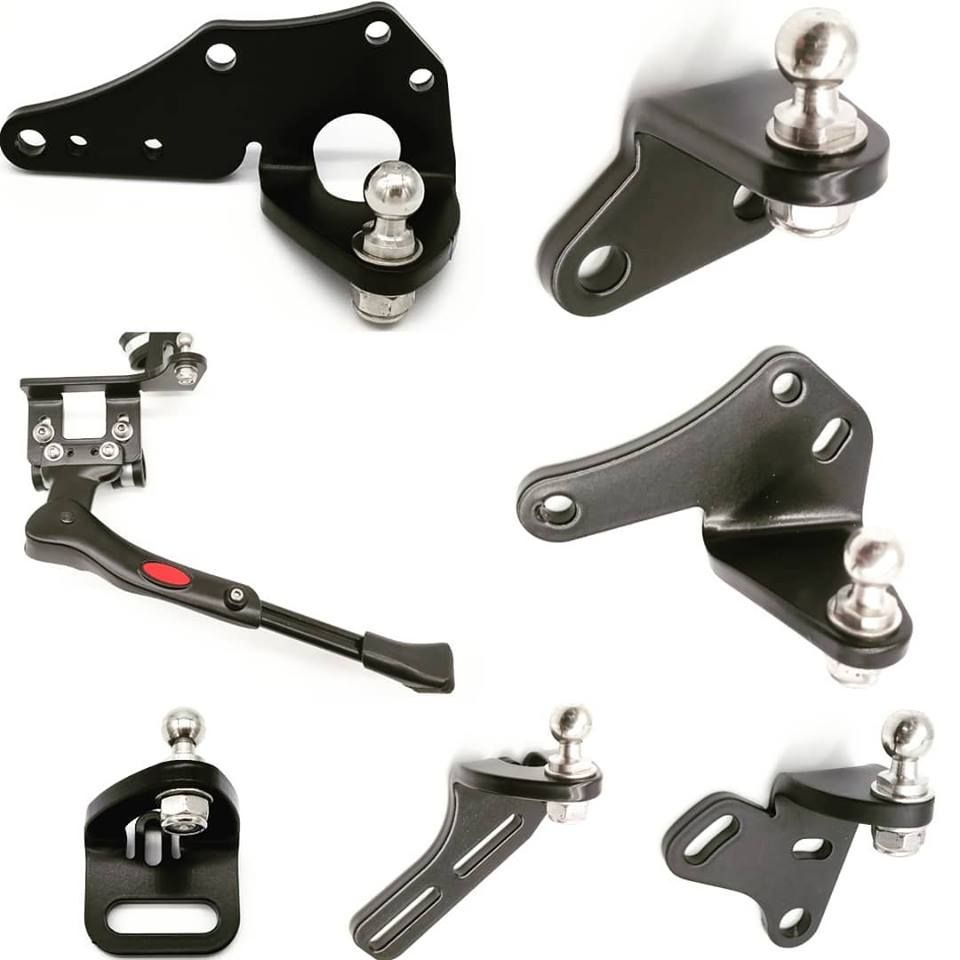 Which bike should I buy to use BicyLift?
The BicyLift trailer requires the use of adapted bicycles to ensure satisfactory conditions of safety and reliability. In addition, the coupling system must be compatible with the bicycle frame, which, given their diversity and geometry, is no easy task.
FlexiModal does not impose any particular models but would like to inform you about your choice. Several parameters seem important to us:
Robustness: forget the racing bike, prefer a more robust frame and equipment (wheels, tires, transmissions,...)

Braking capacity: for the trailer brakes to activate, the bicycle brakes must work under all conditions. Therefore, use hydraulic disc brakes.

Transmission: Re-launching a bike with a loaded trailer can be tricky when you are not in the right gear. However, when you have stopped quickly without having had time to downshift, only gear hubs will allow you to change gears without moving forward. Prefer hubs with integrated gears rather than derailleurs.

Electric assistance: unless you are in a flat area and do not tow heavy loads, the use of an electric-assisted bicycle seems essential. Several types exist, our preference is for pedal motors for more torque.

Carrying capacity: Depending on your activity, you will have a greater or lesser interest in being able to carry goods in the bike in addition to loading the trailer. Combined with the delivery of a pallet, you could thus ensure some additional poses of packages on the way.

Stability at standstill: a stable bike on crutched is practical and avoids significant stress on the bike if you had to lay it on the floor a standstill.
For all these reasons, our choice is more naturally oriented towards cargo bicycles. A number of proven models exist on the market today, we list below the models for which we have compatible couplers:
If you are a cargo bike manufacturer, do not hesitate to contact us to test the compatibility of your range with our trailer! If necessary, we will co-develop a hitch adapted to your frames for perfect compatibility.
Your questions stay without answers ?